‌‌ Rio City Hall employees are forbidden to use WhatsApp and social networks to talk about work matters, since the 14th. The decision is part of Resolution No. 2 of the Secretariat of Government and Public Integrity (Segovi), published in the Official Gazette of Rio de Janeiro and signed by Secretary Marcelo Calero Faria Garcia.
WhatsApp, Facebook Messenger, Instagram, Telegram. They are all banned, but the reasons have not been disclosed: "It is forbidden to communicate public agents with private companies through instant communication programs and / or applications (Whatsapp, Facebook and similar)" says the second article of the document.
‌‌The city of Rio de Janeiro goes further and encourages its employees to communicate using traditional means, such as e-mail and even the forgotten letter. "The communication of public agents with private societies of any kind must be carried out, primarily, by written means (institutional e-mail, letter, letter and similar)", says the first article.
‌‌According to the resolution, even meetings should be scheduled by traditional means until an internal meeting scheduling system is completed. "Until the System for Scheduling Meetings with Public Agents (SARAP) is implemented, private companies must formally request the holding of a meeting, using, therefore, the official communication channels provided by the bodies and / or entities of the Public Administration municipal ", says the third article.
‌‌If an employee receives a message working on a social network, he must reply with a standard message, which asks the author of the message to reproduce it on the official channels of the city hall.
‌‌ "I appreciate your message. In view of our public integrity rules, I ask that you forward your meeting request to the official communication channels of the bodies and entities of the City of Rio de Janeiro, with the name of the authority, agenda and justification for the meeting ", should respond to employees who are sought on social networks.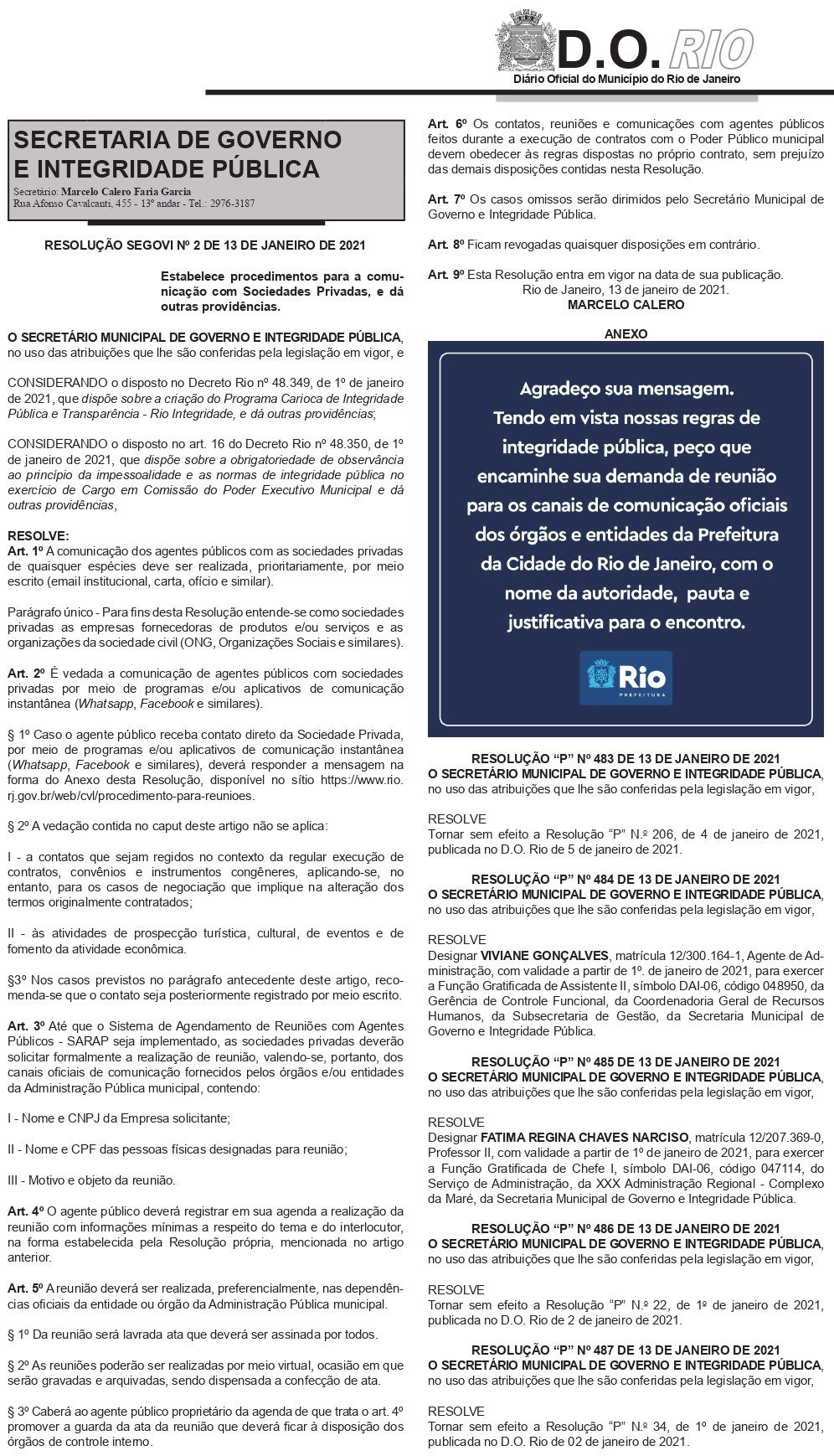 ---
‌‌‌‌Source: Edition No. 216 of the Official Gazette of the Municipality of Rio de Janeiro.
See the original post at: https://thehack.com.br/prefeitura-do-rj-proibe-assuntos-de-trabalho-no-whatsapp-e-redes-sociais/?rand=48873