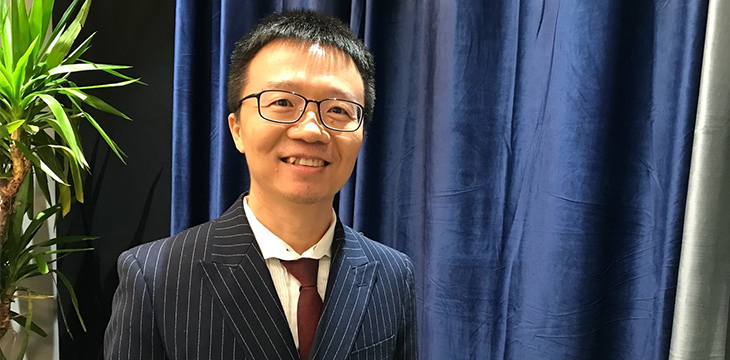 In 2003, Jeff Chen single-handedly built his own web browser, Maxthon. With its customizable interface, the fast, secure and ad-free web browser drew the attention of investors and Jeff turned it into a profitable business. Today it serves 670 million users in over 240 countries.
Now Jeff has discovered the capabilities of Bitcoin SV and is building the latest version of his browser on the BSV blockchain, as well as creating a revolutionary internet domain-name system where all the information will be stored on the chain.  
Speaking to Charles Miller in this week's CoinGeek Conversations, Jeff explained what drew him to Bitcoin SV. "With BTC, it's not possible to do it because it cannot scale. I observed and learned BSV for around 6 months; I understand its technology and the potential. I started thinking about how to integrate the browser with blockchain and to present that in a very user-friendly way." Jeff hopes to create a global public data storage service which is "transparent and traceable." In turn, the browser can be a platform for other developers to create more innovative products on blockchain.
One of the key advantages Jeff sees in using the blockchain is that money can be fully embedded into online activities. So, how will micro-payments on the new browser work? "We'll integrate traditional wallets. People don't have to remember a private key or a public key, all those kinds of scary terms. You use it as normal, as you use Facebook or Twitter using an account and password to log in. And you can top up some money [using fiat currencies or cryptocurrencies] to get points …to consume all the blockchain features." Jeff is keen to allow those who aren't into cryptocurrency to also "get value from blockchain. We want to embrace them". By providing payment access to BSV applications, such as Twetch, Jeff hopes to make it "very easy for people to enter this blockchain world".
In 2005, after securing its first investment, Maxthon was "the world's first browser that had cloud service integrated into it." This enabled bookmarks to be saved to the cloud and to be shared with various systems, which is now commonly available on the world's biggest browsers. Once Maxthon hit 7 to 8 million users, it piqued the interest of businesses and investors resulting in contracts with Google and Yahoo allowing Jeff to grow his team of developers. That was the story of Maxthon: from personal project to a business with bases in Hong Kong, Beijing and later in San Francisco.
Alongside replacing the current mx5 browser (as well as subsequent versions of the software) on blockchain, Jeff is developing a new system for domain names, which he sees as an area ripe for updating. "The domain system was designed in the nineteen eighties. …It's a very centralised system controlled by thirteen route servers, mostly in the U.S., with some in Europe." Jeff points to the inefficiencies in the domain resolving capabilities, using this chain of DNS (domain name system) servers. Regardless of an individual's internet speed, if there's any issue with the route server, everyone's website access slows down. By using blockchain to de-centralise the system, each node would be capable of storing all of the information – effectively redesigning the domain name system on blockchain, making it faster and more secure. "That's the design of BSV and that's why we want to create big blocks" says Jeff.
Recognizing the scaling power that exists on Bitcoin SV and its ability to resolve the issues with the current internet "I think the vision of Dr. Craig [Wright], that in the future there will be only one chain, I actually believe it. It's the rule of the internet."
Jeff Chen is a true innovator. Today, the stage is set to use blockchain to improve the internet user experience and the domain name system. Watch this space.
Source: (https://coingeek.com/)